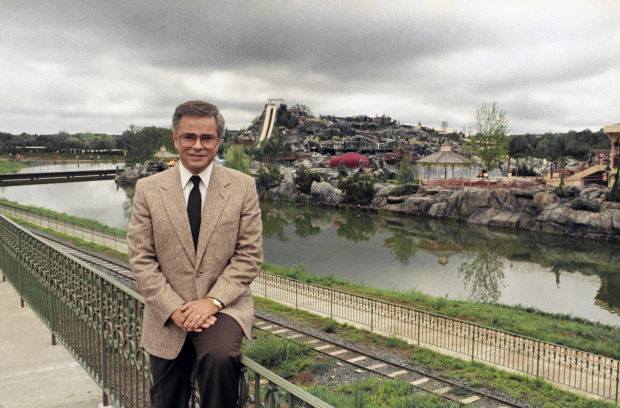 06 Oct

"PRAISE THE LORD" OR "PASS THE LOOT"?

PTL: "PRAISE THE LORD" OR "PASS THE LOOT"?

THE TRIAL OF TELEVANGELIST JIM BAKKER

I was born and raised in Springfield, Missouri. It's a growing city now, but when I was young it was a relatively close knit town nestled quietly at the step of the Ozarks. Springfield is one of those places that really wasn't particularly known for anything, but we seemed to think we had some significant ties to history in some way or another.

For example; Springfield was the sight of a great civil war battle, Wilson's Creek, but it's not like it was Gettysburg or anything. Springfield was a place where Jesse James hung out, but it wasn't like he was from there. Wild Bill Hickock killed a man on the square in Springfield, but he's more known for his time in Deadwood. Springfieldians are very proud people, after all they are Missourians and Missourians are born a prideful and stubborn bunch, but we were more known for being a place where historically significant things might have passed through rather than originated.

Sure now when you think of Springfield, Missouri, most people think of the Bass Pro Shop, but at the time when this story took place it was still in its infancy. Springfield was and is the home of the World Headquarters of The Assemblies of God, and in the 1980s televangelists were in their hay day. And no one seemed bigger than Assemblies of God ministers and television power couple, Jim and Tammy Faye Bakker.

On October 4, 1988, Jim Bakker was served with a federal indictment for eight counts of mail fraud, 15 counts of wire fraud, and one count of conspiracy. In all Bakker was facing a potential of 120 years in prison and up to a 5 million dollar fine. I remember being 11, more concerned with finding new ways to build a ramp out of spare pieces of particle board, which I would jump my Huffy bike off, than world events. However, I remember when Jim Bakker "got in trouble" given that he was a sensation in the Assemblies of God church, it was a very big deal when his empire began to crumble. It really did seem like it happened so fast. One minute he was on top of the world and people loved him, the next he was a scoundrel and everyone claimed to have never really cared for him in the first place.

THE BIRTH OF THE PTL CLUB

The Bakkers were Assembly of God, and in 1966 they began their life in the television ministry for Pat Robertson's CBN (Christian Broadcasting Network). They had a variety show that was more aimed at children, using puppets and sing-a-longs. In the early 1970s the Bakkers left for California and joined the Trinity Broadcasting Network and Paul Crouch. Although they were only with Trinity for about a year, they developed a show and format that would become the cornerstone of their success, PTL (Praise The Lord). The Bakkers retained the rights to the use the initials PTL, travelled east to Charlotte, North Carolina, and started the PTL Club.

To say that the success of the PTL Club was rapid would be a colossal understatement. Within no time the Bakkers were carried on over one hundred stations and reaching an average audience of twelve million viewers. Those are massive numbers and it led to massive amounts of donations. The Bakkers were so successful that the created their own network, The PTL Television Network. It's difficult to understand by today's standards, but this is before we had a network for everything. MTV did not exist and neither did the FOOD Network, or even ESPN, but the Bakkers had a network.

Not only did they have a network, they had a theme park. In 1978 Heritage USA opened its doors to the public, and by the early 1980s it was the third most successful theme park in the U.S. That's right they were competing with Disney World, attracting an astonishing 6 million visitors a year.

The facilities included the 501-room Heritage Grand Hotel, Main Street USA, an indoor shopping complex, the Heritage Village Church, a 400-unit campground, The Jerusalem Amphitheater, conference facilities, a skating rink, prayer and counseling services, full cable TV network production studios, Bible and evangelism school, visitor retreat housing, staff and volunteer housing, timeshares and the Heritage Island water park and recreational facilities.

THE FALL OF THE PTL

Although it seemed like the organization was flush with cash, in fact it was hemorrhaging. The grandiose ideas and lavish lifestyles that consumed the Bakkers, was bigger than the checks their flock could write. From 1984 to 1987 Bakker and his PTL sold "lifetime memberships" to donors that were willing to plop down $1,000.00. In return the buyers were supposed to be entitled to a three-night stay annually at a luxury hotel at Heritage USA. The campaign was successful in that thousands of "memberships" were sold, but Heritage USA had just one 500 room hotel. When "members" would call to claim their benefits they were essentially turned away and told, "There was no room at the inn".

To make matters worse Jim kept taking his 3.4 million dollar bonuses, even though the ministry could not support itself financially. As reporters in Charlotte began to ask questions and dig into the PTL Club's financials, another bomb dropped. It was discovered that a woman named Jessica Hahn, a secretary once employed at PTL, was paid $279,000.00 with PTL funds. Why would a secretary be paid such a large sum of money? Well, Jessica Hahn was more than just Mr. Bakker's secretary, she also had an affair with him, and later claimed that he had essentially drugged and raped her. The $279,000.00 was to buy her silence, and unfortunately for Jim Bakker it turned out to be the loudest sound $279,000.00 could make.

Things went downhill faster than a chubby kid on Heritage USA's 163 foot "Typhoon" waterslide. In March of 1987, Bakker was forced to resign from PTL, and in May he was dismissed as a minister of the Assemblies of God. Jessica Hahn did a spread in Playboy and sold her story to anyone that would listen. Other famed televangelists came out of the woodwork to chastise and denounce Bakker. Chief among them was Jimmy Swaggart, another Assemblies of God minister, who also had his own run in with infidelity a few years later. But, the hits just kept on coming, and in October of 1988 the feds showed up with an indictment.

THE TRIAL

The trial began August 21, 1989 and would last five weeks. Assistant U.S. Attorney Jerry Miller claimed that Bakker oversold 43,000 memberships while diverting $3.7 million to his own personal use. According to Miller, Baker used PTL to "cheat people out of their money… [with] a disdain for all those around him."

The trial was more comedy than drama. At one point a witness who testified that he warned Bakker about PTL's financial issues, and even told him that "someone could go to jail for this", collapsed as he was leaving the witness chair. Bakker, after being urged by his lawyers, came and prayed over the man until the paramedics arrived.

The following day it was Bakker's turn to require medical attention. He had been found beneath a desk in his lawyer's office, huddled in a fetal position, apparently hallucinating. "Please don't do this to me," he sobbed, as he was led away in shackles for psychiatric evaluation.

Then, just as Bakker's defense was getting under way, a storm hit. I don't mean in the metaphorical sense, I mean a real storm, Hurricane Hugo to be exact. When testimony resumed, Bakker's attorney began to refute the Government's claims of fraud. Their central defense was that Bakker wasn't actually selling anything, and that the money was derived from donations not purchases.

In essence this was a very good defense. PTL was a non-profit organization and it was perfectly legal for it to take whatever donations were given, and do essentially what they wanted with them. The "members" were never given a contract or any legal document that showed that they had an ownership in anything. For that matter they couldn't, you can't own a church, and Heritage USA was legally a church, with a 163 foot waterslide.

Unfortunately for the Bakker defense team, the best person to explain all this was the one person that oversaw all of the financials, Jim Bakker. Bakker was a natural on television, and his smooth style and delivery had an effect on people, but he might have been one of the worst witnesses in trial history. Bakker floundered and wilted under cross-examination. For every explanation he gave, he was countered with an example of his opulent lifestyle. The trial became more about the extravagant lives of Jim and Tammy Faye, and less about the law and all that important stuff.

On October 25, 1989, a jury of six men and six women decided they thought Jim Bakker was a bad guy and returned a verdict of guilty on 24 counts. U.S. District Court Judge Robert "Maximum Bob" (that really was his nick-name) Potter, said, "Those of us who really do have a religion are sick of being saps for money-grubbing preachers and priests". He then sentenced Bakker to 45 years and a $500,000.00 fine. When Bakker's attorneys asked that he be able to remain on bond while they appealed, "Maximum Bob" denied their request and sent him into custody right then and there.

Now I know it's hard to feel any sympathy for Jim Bakker, not only was he a charlatan, he was able to practice his graft using God as his wingman, but this was not our justice system's finest hour. Quite honestly, Jim Bakker had a great defense to the government's allegations. He really didn't sell anything. Sure he made promises, but he didn't produce a contract or put anything in writing. He never even promised when you would get to use your "membership". One of his defense lawyers claimed that he was still intending to build more luxury hotels to accommodate the "members", and there is no evidence to refute that claim.

Think about it this way. Bakker claimed that if you gave him $1,000.00 you would have access to a hotel room. If he said "give me $1,000.00 and you can have access to heaven", then the trial would have never made it past the government's case. Why? Because that would have clearly been nothing more than a donation and under laws that existed then and now, it would have been perfectly legal for him to have said such a thing. This matter of a "membership" is really splitting hairs and I think Jim Bakker was ultimately convicted more because he was Jim Bakker than for any legal definition of fraud. I guess the ultimate question is…is that ok? Well, if nothing else the sentence certainly wasn't anything if not overly harsh, and the comments of the Judge were out of line and overtly personal.

To that point, an appellate court agreed came to that same conclusion. In February 1991 a federal appeal court, citing federal sentencing guidelines and Judge Potter's inappropriate mention of religion, ordered a resentencing. Eventually Bakker's sentence was decreased to eight years and he was released on parole in December of 1994. While in prison Tammy Faye divorced Jim and married Roe Messner (the guy that helped build Heritage USA).

Tammy Faye died in 2007. Jim is back on television as the host of The Jim Baker show alongside his second wife, Lori. They broadcast their show from Branson, Missouri. Yep, that's right the same Branson that sits just thirty minutes down the road from my hometown of Springfield. Jim doesn't promise anything anymore, other than prayer and salvation in return for donations to his ministry (he must be listening to his lawyers), and he doesn't own anything. Well he better not own anything, apparently he still owes the IRS about 6 million, give or take.