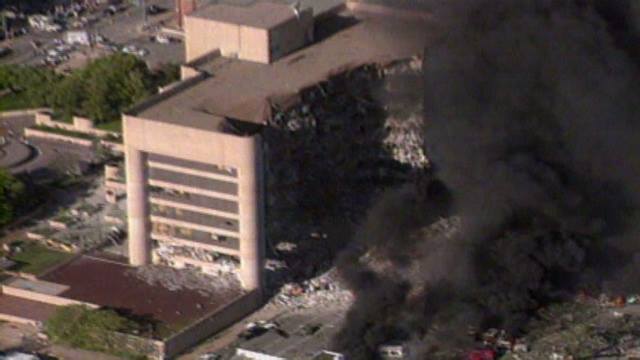 21 Apr

Oklahoma City Bombing, Part 1

THE OKLAHOMA CITY BOMBING, TERRY NICHOLS, AND McALESTER OKLAHOMA – PART ONE.
On April 19, 1995 at 9:02 A.M. a truck bomb exploded outside of the Alfred P. Murrah Federal Building in Oklahoma City. 168 men, women and children lost their lives; many more were injured; and our country was forever changed. This article comes twenty years after that tragic day.


Timothy McVeigh was tried, convicted and sentenced to death for the murder of the eight federal agents that were killed in the bombing. On June 11, 2001, McVeigh drew his last breath as he was put to death at the Federal Correctional Complex in Terre Haute, Indiana. His partner, Terry Nichols, was also convicted on all of the counts charged against him, but did not receive the same sentence.
On June 4, 1997, after being found guilty of conspiracy to use a weapon of mass destruction and eight counts of involuntary manslaughter in the deaths of eight federal agents, Terry Nichols was sentenced to life in prison without the possibility of parole. The death penalty was no longer an option after the jury became deadlocked during sentencing deliberation.
When word of the life sentence got back to Oklahoma City, Darlene Welch responded with outrage. Welch, who lost her 4-year-old niece in the bombing said, "We'll get him here in Oklahoma. If they don't get him in Colorado, as Americans, we'll take care of him here in Oklahoma."
Of the 168 people that died in the bombing, eight were federal agents, and therefore the federal court had jurisdiction over the prosecution of their murders. However, 160 victims were citizens, and the federal government did not have jurisdiction over the prosecution of their murders. This left the Oklahoma County District Attorney, Bob Macy, with the ability to file 160 counts of murder against both McVeigh and Nichols. Since Timothy Nichols was sentenced to death in the federal case, Macy decided to focus on charging Nichols and seeking the death penalty.
On March 29, 1999, Terry Nichols was charged with 160 counts of murder in the first degree, 160 counts of conspiracy to commit murder, aiding in the placing of a bomb against a public building, and one count of manslaughter over the death of an unborn child. The next question became, how could Terry Nichols get a fair trial, and where are we going to have it?
JUDGE STEVEN TAYLOR IS ASSIGNED THE CASE
Judge Steven Taylor, now Justice (he was appointed to the Oklahoma Supreme Court in September of 2004) was appointed by the Supreme Court to preside over the trial of Terry Nichols. Justice Taylor grew up in McAlester, Oklahoma, and after school spent eight years in the United States Marine Corps. While in the Marine Corps he served as a defense lawyer, prosecutor, and ultimately at the age of 28, the youngest judge in the U.S. armed forces. Taylor was the youngest mayor in the history of McAlester, and from 1984 to 1994 he served as Associate District Judge for Pittsburg County, only to become District Judge in 1994. Taylor is one of the most prolific trial judges in Oklahoma legal history, having presided over an estimated 500 jury trials in his career on the bench. When the Supreme Court looked to see who, if anyone could preside over a fair trial that could be accepted as legitimate in the eyes of the American public that resided outside Oklahoma, Taylor was their choice.
On September 1, 2003, Judge Steven Taylor decided that the trial of Terry Nichols would be help in Pittsburg County, McAlester, Oklahoma. The trial would begin on March 1, and Judge Taylor assured Mr. Nichols that there would be a fair trial or none at all. The Prosecution would be headed by then Oklahoma County District Attorney Wes Lane. Lane a long time assistant to Bob Macy, commented to the press that he was confident in the people of Pittsburg County to provide a fair and impartial trial. He also made it clear that the goal of the prosecution was one thing and one thing only…a death sentence.
Terry Nichols was represented by Brian Hermanson, a defense attorney that had a solo practice firm in Ponca City, Oklahoma. Hermanson filed numerous motions with the court citing double jeopardy as well as other grounds for dismissal, including the argument that Terry Nichols could not get a fair trial. Judge Taylor overruled all of the motions.
Hermanson was handed the task of defending a guilty client. There was no doubt that Terry Nichols was guilty of conspiring with Timothy McVeigh, because a federal jury in Colorado had already found him guilty. Hermanson had one job and one job only, to save Terry Nichols from death row. On March 1, 2004 both sides entered the Courtroom No. 1 in the Pittsburg County Courthouse, and began to pick a jury in one of the most famous trials of a guilty man in American legal history.
In part two, the trial, the outcome and the aftermath.