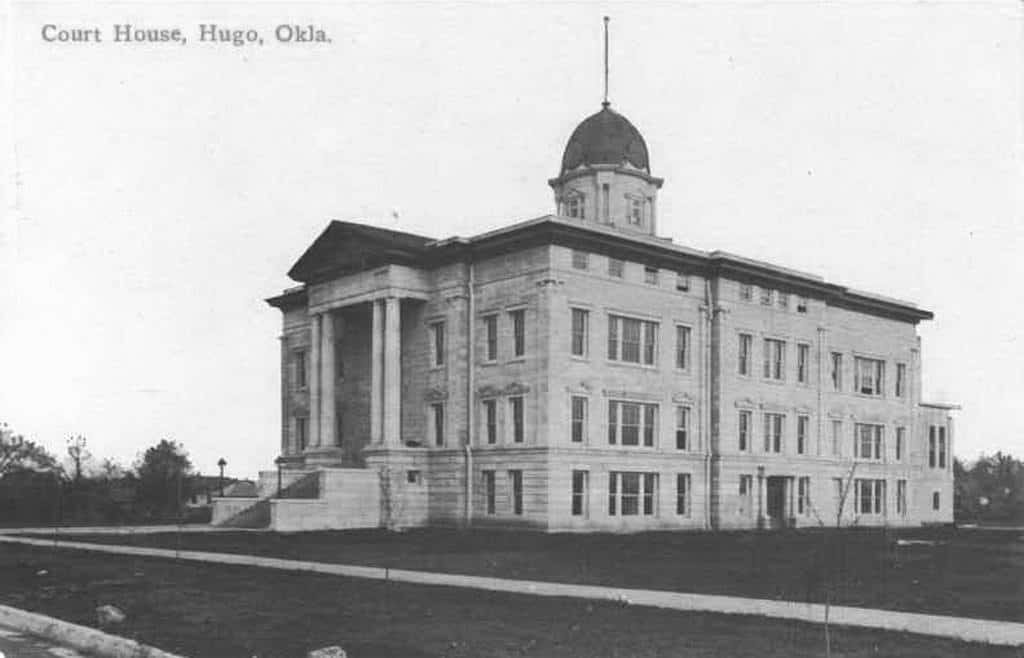 10 Feb

THURGOOD MARSHALL COMES TO SOUTHEASTERN OKLAHOMA

The trial of W.D. Lyons in Hugo, Oklahoma

PART ONE:

Civil Rights reform was not a movement attributable to any one person. The movement itself had multiple moving parts, national, and local leaders. The criminal justice system in the United States was a pillar of inequality in the days of the Jim Crow South. This is the story of a particular case in Hugo, Oklahoma, in 1939-41. It is a striking example of racial inequality, and the heroism of one of America's greatest advocates for the individual rights that our Constitution guarantees to every citizen.

This story seems to come from a faraway time in a faraway version of our state that many of us would claim to not recognize today. However, the themes of government corruption, unfair judicial practices, inherrant predjudice, and coerced confessions, are not things that we have rid ourselves of.

MURDER, MURDER MOST CRUEL

Elmer Rogers, his wife and three children, all boys, resided in Fort Townson, Oklahoma. Late on New Years Eve, 1939, the Rogers family became the victims of one of the most shocking and gruesome mass murders in Oklahoma history. A man entered the home shot Mr. and Mrs. Rogers, mutilated their bodies with an axe, and set the home ablaze. Before fire consumed the Rogers homestead, James Glenn and Billie Don Rogers escaped. Their four-year-old brother, Elvie Dean was not so lucky and succumbed to the noxious smoke, only to burn to death.

The following day, the light of a new morning sun shone down on the smoldering hulk of what was once the Rogers' family home. The crime scene, more a horror scene of senseless indifference to the sanctity of human life, contained the bodies of a young couple and their small child reduced to ash, charred bones, and teeth. The small community in Choctaw County reacted with a mixture of rage and anguish. Those feelings only rawed by the revelation of a confession shortly after.

White prisoners from a nearby camp were arrested, and one of the men, who had been on furlough confessed to the terrible crime. The man, who had been moving freely about with the consent of camp's warden, had also been seen in beer joints and brothels in the area around the time of the murder. The newspapers quickly grabbed the story and featured scathing headlines across their front pages.

It wasn't long before Oklahoma Governor Leon Chase Phillips was picking up the paper and seeing that his administration was being questioned. He acted quickly. First, he contacted Warden Jesse (Jess) Dunn at the Oklahoma State Penitentiary in McAlester. He instructed Dunn to get to the prison camp and "sort things out" until he could send help from Oklahoma City. Dunn went to Fort Townson, initiated an investigation and shortly thereafter relieved most of the officials at the camp of their duties. The "help" that came from Oklahoma City, was in the form of Special Investigator Vernon Cheatwood.

Cheatwood came into Fort Townson and began his own investigation. Despite a confession, the white prisoner was allowed to leave the area, and was supposedly escorted into Texas, never to be named or heard from again. It appears the prisoner was not needed in the investigator's pursuit of justice, because within two weeks of arriving, Cheatwood was able to locate the "real" killer and obtain a confession. The man was a 29-year-old black sharecropper named W.D. Lyons. His trial would shine a national spotlight on Oklahoma, and bring one of America's greatest lawyers to Hugo, Oklahoma, the county seat of Choctaw County in the winter of 1941.

…

"A LAWYER IS EITHER A SOCIAL ENGINEER, OR A PARASITE ON SOCIETY" – Charles Hamilton Houston (Lawyer, Dean of Howard University Law School, NAACP Litigation Director, and mentor of Thurgood Marshall)

By late 1940, Thurgood Marshall was one of the most prominent African-Americans in the United States. He was only 32. He had joined the NAACP's Legal Division in 1936, following his mentor and law school professor, Charles Hamilton Houston. By 1940 Marshall, along with NAACP Director Walter White, were the face of the national organization.

In January of 1940 Marshall, a regular at this point, had argued the case of Chambers v. Florida to the United States Supreme Court. In Chambers, four black men (including Mr. Chambers) had been convicted and sentenced to death in the murder of an elderly white man in Pompano Beach, Florida. The men confessed to murder after being severely beaten. Marshall argued that the confessions had been "extorted by violence and torture". He argued that the men had been denied their right of due process as guaranteed by the 14th Amendment. Astonishingly, given the Court's decisions in similar preceding cases, the Court reversed the convictions of the condemned men.

Justice Hugo Black wrote the opinion for the Court setting out the reasoning for its unanimous decision. In the years after the Justice's death his widow revealed that he was incapable of reading this particular opinion without being brought to tears. He most poignantly stated that:

"Today, as in ages past, we are not without tragic proof that the exalted power of some governments to punish manufactured crime dictatorially is the handmaid of tyranny. Under our constitutional system, courts stand against any winds that blow as havens of refuge for those who might otherwise suffer because they are helpless, weak, outnumbered, or because they are nonconforming victims of prejudice and public excitement. Due process of law, preserved for all by our Constitution, commands that no such practice as that disclosed by this record shall send any accused to his death. No higher duty, no more solemn responsibility, rests upon this Court than that of translating into living law and maintaining this constitutional shield deliberately planned and inscribed for the benefit of every human being subject to our Constitution — of whatever race, creed or persuasion."

As a result of this incredible victory, Marshall was able to convince Walter White to create the NAACP Legal Defense Fund, naming him as its Executive Director. When the Lyons case came into the National Office of the NAACP in Harlem, and across Thurgood's desk, he saw it as an opportunity for his new Legal Defense Fund. Although the NAACP was making great strides in cases involving schools and public accommodations, by attacking the Jim Crow South under the "Separate but Equal" decision in Plessy v. Ferguson, Marshall had seen from his victory in Chambers that criminal case caught the most headlines. This which led to memberships, and dues being paid. He saw in Lyons a chance to grab the headlines, raise money for the fund, and very likely prevail in the Supreme Court.

Acquittal was never the expectation. Marshall never expected to actually win a black man's freedom in a court in the Jim Crow South. He regularly told the other attorneys in the division, that a life sentence rather than a death sentence was a victory in the south. "If an all-white jury imprisons a negro rather than put him to death, then they surely knew he was innocent," he would say.

On a cold January morning in 1941, Thurgood Marshall boarded a train in New York bound for Oklahoma.

LAWYER MARSHALL IS COMIN'

On January 26th, 1941 at 8:10 A.M., Marshall reached the train depot in Oklahoma City. He boarded a bus for Hugo at 12:30 P.M. and began a grueling six-hour bus ride. Seconds after the tall, lanky lawyer stepped from the bus and onto Southeastern Oklahoma soil he was whisked away by local blacks that found it necessary to hide him.

Word of his arrival had made it to Choctaw County before Thurgood could. It was not unusual for Marshall to encounter resistance and threats on his life when he went into the south. He knew that every excursion that he took into the south could be his last and he was well known for his dark humor and making jokes which made those around him feel uncomfortable, but it seemed to be his way of dealing with the fear. He had personally seen the pictures of southern lynchings that made their way into the files at the NAACP.

One particular photograph that stayed ever present in his mind was that of a young man in Florida. The black and white photo featured a young black man naked hanging from a tree, his neck stretched and visibly broken, his body riddled with bullet holes, blood running down his legs from the pre-mortem castration. Surrounding the black youth were white men proudly displaying their firearms for the camera. But, what terrified Marshall the most was the group of young white children in the picture starring up at the lifeless body as if transfixed upon a merry-go-round barker at a county fair. He saw in their eyes, the seeds of a never ending struggle to erase a learned hatred.

Marshall found himself at the home of an obstinate widow, who proudly proclaimed, "I ain't scared." As the old woman slept, snoring loudly, Marshall sat awake, sweating, and could only think about his own lynching. The white people of Choctaw County knew he was there, and only saw his presence as one of irritation. Word had gotten out that "a nigger lawyer from New York, was trying the case."

TO BE CONTINUED….